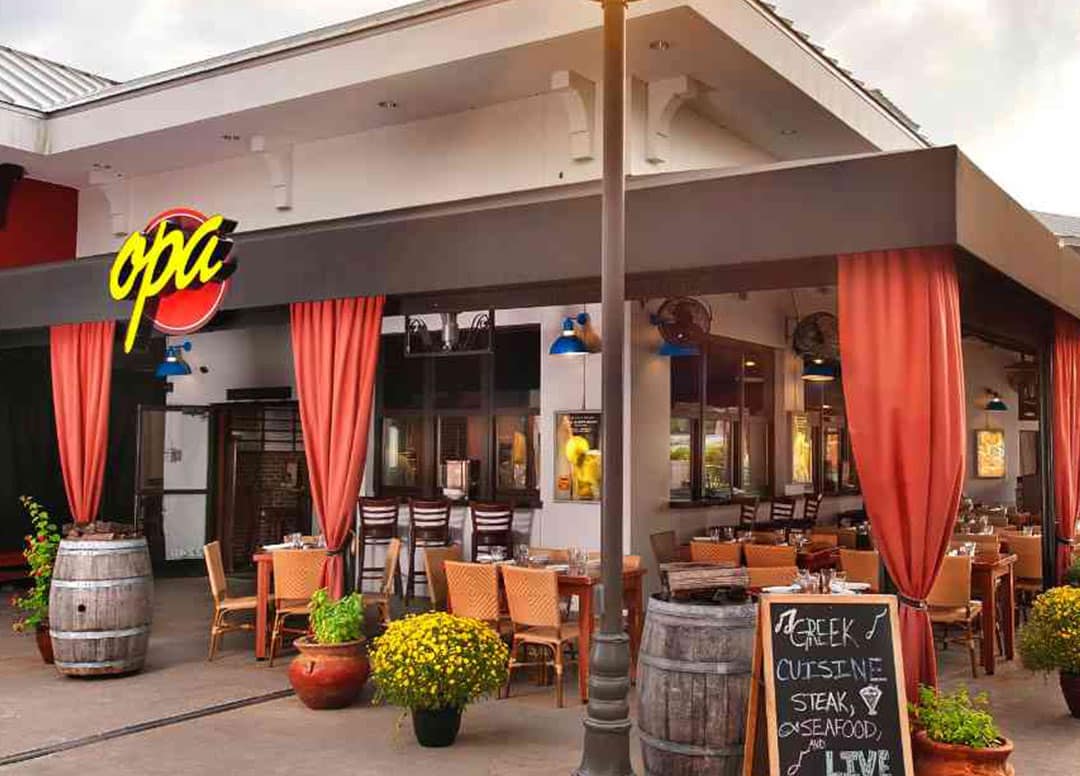 Orlando Happy Hour Specials
At Taverna Opa, we're famous for our delicious Greek cuisine, as well as Pointe Orlando's best happy hour specials. We also feature authentic belly dancing nightly.
When you're looking for a place to unwind after a hard day at work, come join us for Florida's most exciting half price drink specials. Enjoy our select wines, blue martinis, and craft cocktails, or keep your event simple with the house wine.
Orlando happy hour 3 p.m. to 6 p.m. daily
Half-price cocktails & 2-for-1 drinks available only at the bar
Happy hour appetizers menu
Whether you're celebrating a new promotion or just marking the end of another stressful day at work, Greek food served with happy hour specials is the perfect way to relax. While you're forgetting about the workday, you can feast on Taverna Opa's meze with happy hour appetizers:
Tzatziki: Greek yogurt with cucumber, dill, and garlic
Taramosalata: Lemon and cod-roe dip
Housemade hummus: Chickpeas, olive oil, garlic, and pepper
Keftedes: Greek meatballs with beef and herbs
Spanakopita: Spinach and feta cheese with phyllo
Opa fries: Kasseri cheese and oregano
Crispy calamari: Fried squid with lemon
Oak-grilled wings: Grilled chicken wings with lemon and oregano
Crispy zucchini: With kasseri cheese and tzatziki
Dolmades: Grape leaves stuffed with herb-infused rice
Feta and olives: Served with olive oil and oregano
Traditional Greek salad: With cucumber, tomatoes, kalamata olives, and feta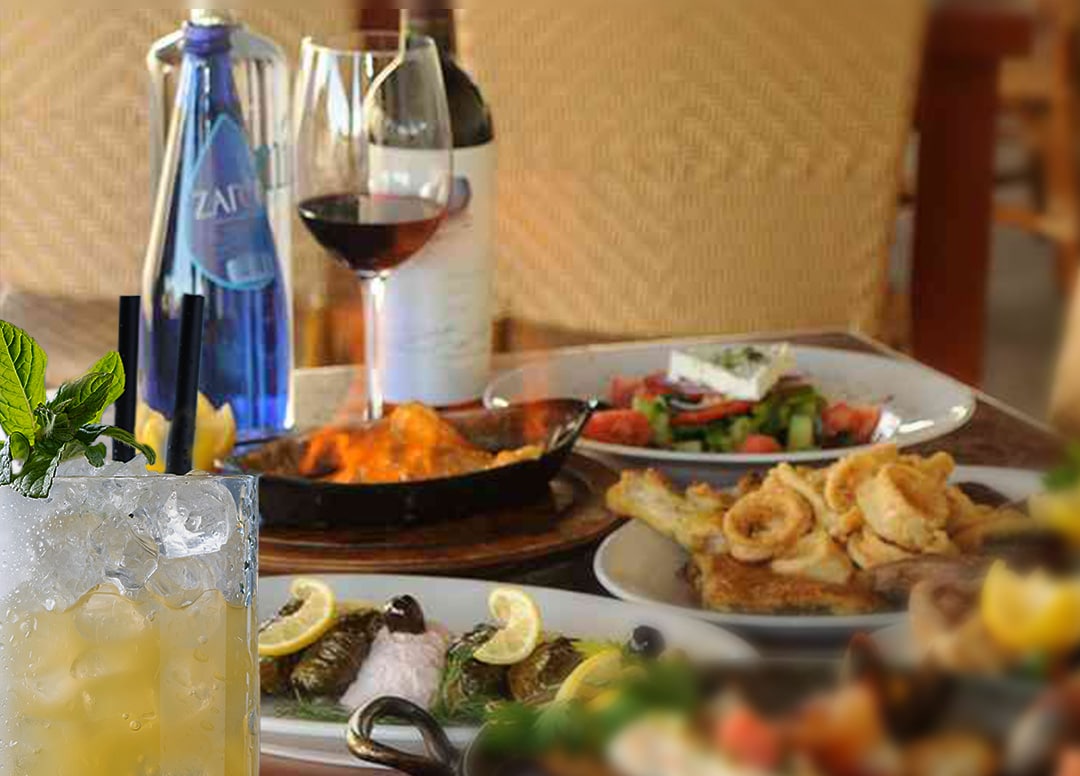 Happy hour cocktail deals in Orlando
To help you unwind at the end of a long workday, here's a list of our award-winning martinis and half price drink specials:
Espressotini: Van Gogh double espresso vodka, Kahlúa, and espresso
Aphrodirty Martini: Imperial vodka, olive juice and a 3-olive garnish
Opa Coco: Malibu coconut rum, pineapple juice, and cranberry juice
Koukla Cosmo: Van Gogh citron vodka, citrónge, lime, and cranberry juice
Pomegranate: Pama liqueur, Absolut citron, cranberry juice, and sours
Margaritaki Martini: Avion tequila, Triple Sec, lime juice, sour mix, and lime-wedge garnish
Mykonos Crush: Absolut mandarin vodka, Daily's Grenadine, cranberry, and pineapple juice
Santorini Mule: EG vodka, Figenza, ginger beer, mint, and lime
Mediterranean Martini: FOS Mastiha, Grey Goose vodka, lemon, and basil
Aphrodisiac Martini: EG rosemary and lavender spirit, mint, cucumber, lemon, lime, and sparkling water
Zorbatini: Russian standard vodka, blue curaçao, pineapple juice, and banana liqueur
Hercules: Jägermeister, Malibu coconut rum, cranberry, and pineapple juice
Greek Kamikazetini: Absolut citron vodka, Triple Sec, and a splash of lemon with sugar on the rim
More drink specials:
Sangria pitchers
Cocktail pitchers
Q&A
The longest and best happy hours are here at Taverna Opa with Greek food, and also at our sister restaurant Tapa Toro with Spanish cuisine. We serve half-price drink specials from 3 p.m. to 6 p.m. daily.
During happy hours in Orlando, the best way to end a long day on the job is to enjoy a few drinks with your coworkers and friends. Just take some time to relax with coworkers and friends before going home for the evening, so you'll feel refreshed and ready for your next workday.
Orlando happy hour