A Unique Holiday Party Venue in Orlando FL
Make your holiday party unforgettable with a Greek feast!
Book a party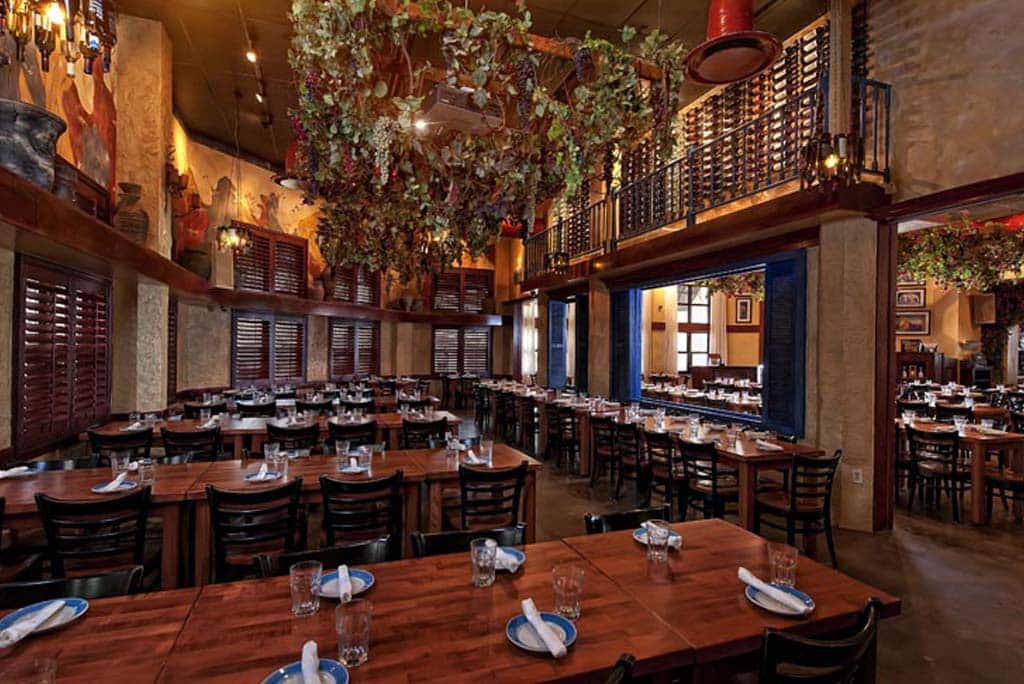 The very best Orlando holiday party venue
Want to celebrate this holiday season with something really special? Try our delicious Greek and Mediterranean cuisine at Opa Orlando.
We're one of the very best holiday party venues in Orlando. That's because we prepare a truly memorable Greek feast to mark the end of one year and the beginning of another.
This is the time of year to reflect on the challenges that we've overcome, as well as the successes that we've been blessed with. Now's the right time to celebrate with family and friends, and we have the perfect spot here at Opa Orlando.
Planning a party to celebrate Christmas and the New Year? We can help. Our delicious Greek food is a great way to remember these holidays or any other special event.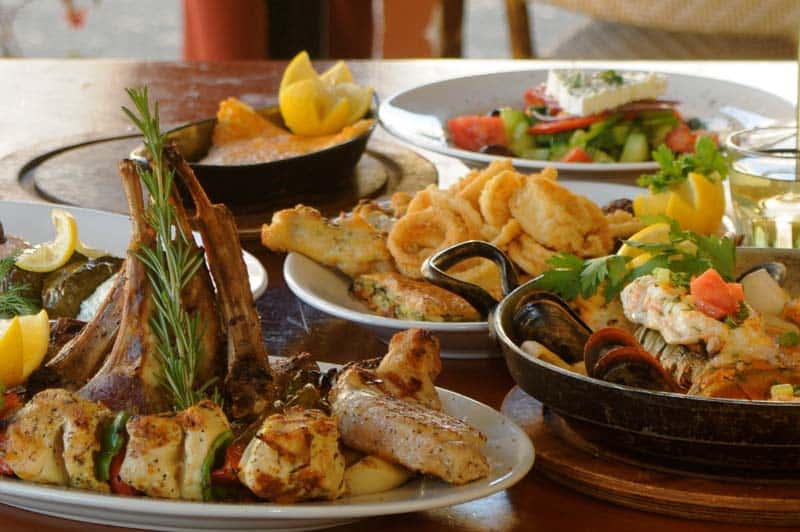 Holiday party food and drink
Great food always starts with top-quality ingredients. Here at Opa Orlando, we use authentic imported oils, cheeses, and seasonings for the most delicious results. We're known throughout Central Florida for our fresh seafood, as well as these traditional Greek and Mediterranean dishes.
Hot and cold tapas
Lamb ribs and lamb sliders
Tzatziki Greek strained yogurt
Oak-grilled chicken wings
Keftedes Greek meatballs
Hummus
Spanakopita
Octopus and calamari
Dolmades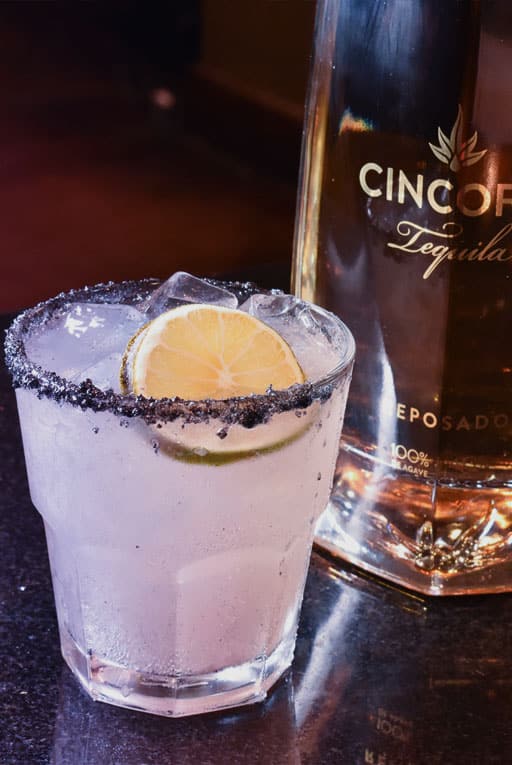 Drinks
We offer plenty of refreshing beverages to accompany our tasty menu options. To serve thirsty guests, we mix the best drinks in Central FL.
Signature cocktails
Mediterranean Gin & Tonic
Santorini Mule
Athenian Old Fashioned
Greek Jalapeño
Orlando Mango
Black Salt Paloma
Greek Kamikazetini
Mykonos Dream
Never on Sunday
Drink specials
Sangria pitchers
Cocktail Pitchers
Holiday party venue entertainment
What would a party be without entertainment? Boring! Here at Opa Orlando,we know how to party.
That's why we offer a full range of options for entertainment. If you want a quiet, family-focused celebration, we offer pre-recorded music. And if you want to have a much more exciting party, then we'll provide a belly dancing show that your guests will never forget.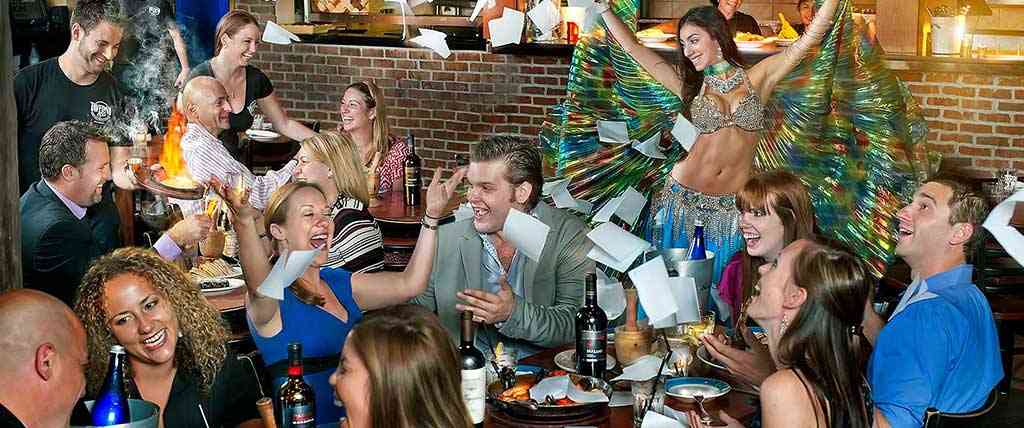 The favorite Christmas party venue in Orlando, FL
Whether you're a Greek-food lover or you've never tried it, now's the best time to enjoy tasty Mediterranean cuisine. That's why Opa Orlando is consistently chosen as one of Orlando's favorite Christmas party venues.
When you're thinking about holiday parties, birthdays, or any other special occasion in the Orlando area, choose an award-winning restaurant and event venue. Find the perfect spot, where your guests will have the best of everything – Great food, exciting entertainment, and exceptional service.
This year, for a holiday experience you'll never forget, choose delicious Greek food accompanied by belly dancing and other exotic entertainment. Make this holiday season special, with plenty of good memories.
Q&As
Opa Orlando is one of the most popular holiday party venues in Central FL. So, we're often asked for advice about these commonly-asked questions.
When you're looking for the perfect spot for holiday gatherings, Opa Orlando is the best space. Here's why: Christmas, Thanksgiving, and New Year's Eve are our favorite occasions because we have a chance to prepare all our traditional Greek dishes, and show off our award-winning new menu options.
For the past year, we've been looking forward to the holiday season. For us and everyone else who loves good food, this is the peak of the culinary season. It's the season when we prepare traditional Greek dishes as well as exciting new Mediterranean flavors for each of these special days.
Christmas
New Years
Hanukkah
Bring all your friends and family. We can help you plan a holiday party, corporate meeting, or any other special event. With lots of menu options for delicious food at affordable prices, we'll treat your guests to an unforgettable Greek feast.
We're happy to host groups of up to 40 guests right here in our private party room, and for larger gatherings, we'll bring the feast to you with our professional Orlando catering service. Our caterers can turn any party or corporate event into something truly special.
Yes. Whether you want a quiet, intimate gathering or a loud, boisterous celebration, our private party room is the perfect spot.
Just let us know which date and time, and how many guests you're expecting. We'll handle everything else, from preparing and serving a memorable holiday meal to cleaning up the mess afterward!
Of course, it's best to plan ahead. Just contact us today to make reservations for our private party room and special event venue.